Researchers at the University of Grenoble in France recently released the results of a clinical trial in which a paralyzed man was able to walk with the help of an exoskeleton. The patient, a 28-year-old French man identified as Thibault, was able to control the exoskeleton with his mind. The study's authors say this shows operating the robotic system is possible for people with tetraplegia, the loss of control of both arms and legs.
The whole-body exoskeleton, a four-limb robotic system mounted to a ceiling harness for balance, was part of a two-year trial funded by Clinatec, a French biomedical research company specializing in neuroscience. While the current state of the system is not patient ready, researchers are enthusiastic that the trial demonstrates the technology is possible for an algorithm that interprets brain signals and turns them into physical movement.
"Ours is the first semi-invasive wireless brain-computer system designed for long-term use to activate all four limbs," said Professor Alim-Louis Benabid, President of the Clinatec Executive Board and Professor Emeritus at the University of Grenoble in a press release. "Previous brain-computer studies have used more invasive recording devices implanted beneath the outermost membrane of the brain, where they eventually stop working. They have also been connected to wires, limited to creating movement in just one limb, or have focused on restoring movement to patients' own muscles."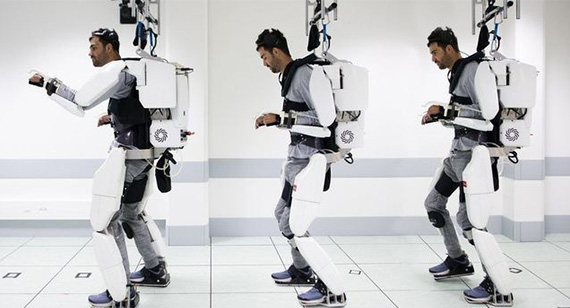 A paralyzed man was able to walk with the help of an exoskeleton and ceiling-attached harness using brain-controlled sensors. Photo Courtesy: mashable.com
Thibault controlled the exoskeleton through two sensors implanted between his skin and brain. The sensors record brain activity in the sensorimotor cortex, the part of the brain that controls movement and sensation. An algorithm was trained to interpret the signals and translate them into movement. He started out using the mind sensors to play games like Pong, eventually moving to more complex movements like turning his wrist, and finally walking.
The trial is ongoing, with three more patients recruited. Researchers' next goal is to allow a patient to walk and balance without needing the ceiling suspension system. Further studies will also shed light on brain function, delving deeper into how the sensorimotor cortex creates the signals needed to produce the movements.
"Our findings could move us a step closer to helping tetraplegic patients to drive computers using brain signals alone, perhaps starting with driving wheelchairs using brain activity instead of joysticks and progressing to developing an exoskeleton for increased mobility," said Professor Stephan Chabardes, neurosurgeon from the CHU of Grenoble-Alpes, France.
At Protolabs, we're interested in these innovations because we work with medtech companies and organizations in this specialty, including Parker Hannifin and the University of Houston, which also have developed exoskeleton technologies.
Eye on Innovation is a monthly look at new technology, products, and trends.